16.09.2022
D-100 >> Top 3 gift ideas for all music lovers
Hercules DJ is excited to offer its Top 3 gift ideas for all music lovers, as there's no better time than the holidays and Christmas to listen to music or start a new passion!
Who is Hercules? If you thought of Greek mythology, you're not wrong, but it's not just the name of a god! Hercules has been a recognized brand in the DJ world since the 2000s and a major player in the evolution of entertainment and the emerging technologies industry for forty years.
Today, Hercules mainly develops and sells DJ controllers. And what is a DJ controller? Picture it as a giant remote control for the DJ software and music tracks on your computer or smartphone: it has two decks, plus a DJ mixer in the middle, which are used to transition between songs and add effects.
So, who wants to get started?
For smartphone music addicts
Addicted to smartphones? To social media? To music? Well, the next step is to start mixing. It's easy, fast and ultra-accessible with the DJControl Mix controller and the free Algoriddim djay app on iOS and Android, all connected via Bluetooth! This perfect combo, already a hit among TikTok mashup artists, allows you to mix your favorite tracks, create mashups with different genres and new music, scratch and improvise at small parties with friends. No music on your phone? No problem! The djay app offers access to online streaming music services, such as SoundCloud, TIDAL, and Beatport. Plus, Hercules provides royalty-free music tracks, some of which were produced by Hercules to help anyone start to DJ.
Freedom guaranteed. Unlimited music.
Available now at just $109.99.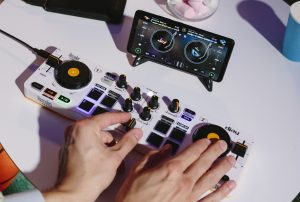 Everything you need to succeed as a DJ!
The best-selling DJControl Inpulse 200 controller + the excellent value-for-money DJMonitor 32 speakers + the HDP DJ45 headphones (perfect for beginner DJs) + the incredibly full-featured DJUCED DJing software = the kit you've been looking for to help you become a DJ. There's no need to worry about what gear to choose: everything's included… even the cables!
Whether it's for yourself or to give as a gift, you really can't go wrong with the Hercules DJLearning Kit.
Available for sale at the friendly price of $239.99.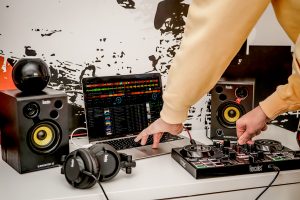 For performance-ready DJs
Hercules is known for supporting young and aspiring DJs by giving them confidence thanks to affordable DJ solutions. To take this a step further and help this new generation of DJs get out of their bedrooms and perform in public for the first time, Hercules launched the DJControl Inpulse 500 controller in 2020. Acclaimed among the YouTube DJ community and trendy for livestream DJs on Twitch, DJControl Inpulse 500 offers dual software compatibility (DJUCED and Serato), a ton of features, audio connectors, a microphone input, retractable feet to elevate its height, and access to millions of tracks from streaming services.
For spinning at a bar or for livestreaming online, DJControl Inpulse 500 is the ideal controller for first-time performers!
Available now and an incredible value at just $299.99.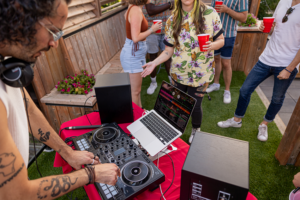 >> Please note that Hercules offers a complete educational experience for its first-time users including a full library of free video tutorials via the Hercules DJ Academy, available on the Hercules YouTube channel.